Vote for CSS as the Greatest Dance Act of All Time!
15/09/11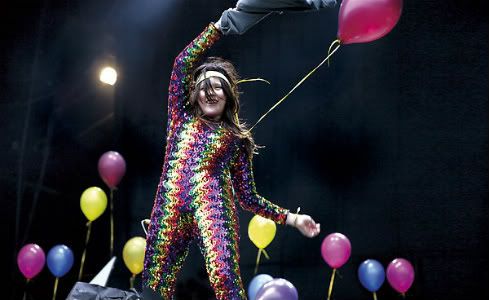 Photo by Tom Oxley for NME.com
CSS have made it into Mixmag's shortlist for the ultimate title of Greatest Dance Act of All Time!
And rightly so - who else can get away with sequinned all-in-ones, dressing as Xmas trees, crowdsurfing, glitter throwing & inciting mass dance routines at every show without fail?! The Sao Paulo dance punks have been solely responsible for outbreaks of worldwide partying since 'Let's Make Love And Listen To Death From Above' first hit stereo's. Their new album 'La Liberacion' continues to fan the flames of grinning, reckless abandon and dancefloor shape-throwing, and recent UK shows demonstrated a band still as unpredictable and live-wired as back in the nu-rave days of old.
To say THANKS to Lovefoxxx and the gang for the many, many sweaty goodtimes we've all shared, get voting! All you need to do is visit www.mixmaggreatest.com to register yr vote!
La Liberacion is out now! Get it at Amazon / Rough Trade / Play.com / iTunes / HMV
Get Hysterical now...
12/09/11
Let's get Hysterical! The third album from beloved New Yorkers, Clap Your Hands Say Yeah is HERE!
Produced by John Congleton (Explosions In The Sky, Okkervil River, The Mountain Goats), Hysterical is Clap Your Hands Say Yeah's first new album in more than four years, and sees the band returning to their poppier sensibilities with a fun and experimental edge. Born out of an intensely collaborative process in which songs were constructed, dismantled, and then rebuilt anew, the album finds the band at their most confident and creative, expertly expanding upon its already distinctive sound.
The album is available on a limited deluxe CD with two bonus tracks, standard CD, vinyl and download. Order yours at the following outlets:
Rough Trade / Amazon / Play.com / iTunes / HMV
Let us know what you think of the album - drop us a note on Facebook or give us a Tweet.
V2 x
Audio Player
Latest Releases