New Tinariwen album TASSILI is out now!
31/08/11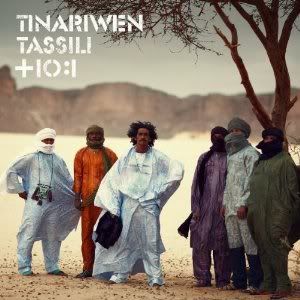 With an incredible tale of strength and revolution at the root of their radical beginnings, Tinariwen are a band unlike any other, and continue to inspire and influence fans and musicians alike. After Uncut named their previous record, Imidiwan as being "the most inspiring and richly rewarding album of the last 12 months", their new release Tassili has been hotly anticipated and will now finally greet your ears.

Featuring some intriguing collaborations with TV on the Radio and Nels Cline of Wilco, the album sees the Sahara Desert natives setting the electric guitar to one side and giving pride of place to acoustic sounds, recorded right in the heart of the desert. Forced to record their new album far from their base in Tessalit northern Mali (where many of their previous albums were recorded) which is now deemed too insecure for outsiders to visit, Tinariwen converged in the deserts of southern Algeria in a protected region called the Tassili N'Ajjer; the natural open space allowing free rein of inspiration in seemingly endless sessions around the campfire.

While a number of artists are referred to as 'revolutionary', in the case of Tinariwen, their musical output and messages of peace really have resonated across musical and political ground. Their musical rising was built not from teenage angst, but a need to vocalise their message of peace and to draw attention to the new political and social conscience developing in the southern Sahara.
Kyp Malone & Tunde Adebimpe (TV On The Radio):
"We were simultaneously stunned that we'd never heard of them before and amazed at how bad they made everyone else look!" (BBC)
Thom Yorke (Radiohead):
"The Clock was totally taken from this weird 'Arabian festival in the desert' that Robert Plant did. There are a couple of tracks where these guitar players from Mali play these amazing riffs. So I copied their style and improvised for 10 minutes and then just randomly recorded bits until I captured something of what they were doing." (Mojo Magazine, UK).
Damon Albarn:
"They were proper rebels, and what a wonderful way to advertise a problem to the world: through music. You don't have to understand the words to hear something deeper in it. It's the mood that says it all." (Q Magazine, UK).
Robert Plant:
"Listening to Tinariwen is like dropping a bucket into a deep well."
Chris Martin (Coldplay):
"...so much amazing music inspired us on this record. We listened to Rammstein and Tinariwen, one after the other, and the middle part of '42' came naturally from that. There were no limits." (Talking about the album 'Viva la Vida')

Tassili is now available from the following outlets:
iTunes / Amazon / Rough Trade / Play / HMV

Tour Dates:
Saturday 3rd September - Moseley Folk Festival, Manchester. Tickets here
Sunday 4th September - End Of The Road Festival, Dorset. Tickets here
Tuesday 25th October - Belfast Festival, Belfast. Tickets here
Wednesday 26th October - KOKO, London. Tickets here
Friday 2nd - Sunday 4th December - All Tomorrow's Parties, Minehead. Tickets here
To keep up to date with all things V2, check out our brothers and sisters at Cooperative Music's Facebook and Twitter accounts, and be the first to find out about very special competitions and big news!


V2 x
If you go down to the woods today...
16/08/11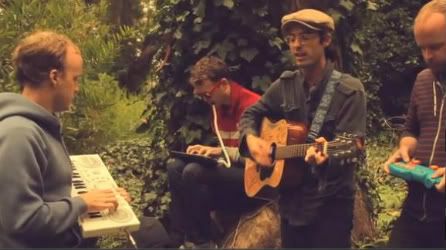 During their recent time at the Outside Lands festival in San Francisco, Clap Your Hands Say Yeah ventured out into nature to perform 'Same Mistake'. The leafy green surroundings bring out the gentle side in the track, and thanks to Pitchfork.tv you can now watch their performance, situated between the shrubbery!
Watch it here.
'Same Mistake' is taken from their brand new album, out on 12th September. iTunes have an exclusive bonus track 'New Age' - preorder yours here today!
Audio Player
Latest Releases